Photos
Tracks
Biography
I started out playing on my brothers drums. That's what I wanted to play at the time. My brother how ever didn't want me banging on his drums. lol He got me an electric guitar for my birthday and showed me three chords and said figure out the rest yourself. So I did. Like most I was in and out of a lot of bands and learning along the way. Playing cover songs by Rush,Judas Priest,Thin Lizzy,Lynyrd Skynyrd, Kansas, Crack the Sky, Led Zeppelin to name a few. I didn't get serious about making music till around 19 when I met and jammed with a drummer who was into jazz and progressive rock. That opened my mind to a whole new world of music I had not heard before. People like Al Di Meola, John McLaughlin, Paco de lucia, Allan Holdsworth,Pat Metheny and bands like Brand X, Weather Report, Return to Forever, Jean Luc Ponty. I carry all those influences and inject those into my own style. Hopefully you can hear some of those influences in my music but at the same time hear how it has molded how I play and who I am as a musician. Instrumental music from the 80's up to today's music is also a major influence. Some of my favorite Bands and Guitarist...Ron Jarzombek,Joey Tafolla,Chris Impellitteri,Nick Johnston,Tony Macalpine,Planet X,Vinnie Moore,Racer X,Paul Gilbert,Dreamtheater,George Lynch,John Petrucci,Michael Romeo, SYMPHONY X, AL JOSEPH, Paul Wardingham, Andy James, Marco Sfogli, Greg Howe, Andy Timmons,Ronald Jay Blumenthal,Andre Nieri,Robin Trower and Frank Marino one of the most under rated Blues Rock guitarist... All amazing guitarist.

What I'm listening to.Check it out...


The Fusion Syndicate - Random Acts Of Science
https://www.youtube.com/watch?v=d-EvizB8E6k&list=PLWdj1lzaeR8ZKv4mIiJbdlkrsU91p13xu

The Mark Varney Project (MVP) - Truth in Shredding
https://www.youtube.com/watch?v=a-Mv7co3nXU

Tribal Tech - X
https://www.youtube.com/watch?v=Ru1RH3OeK2E&t=214s

Tony MacAlpine Concrete Gardens https://www.youtube.com/watch?v=1IbZn2sBQyA&list=OLAK5uy_lf7EJ_XKhb3y9Vrq32Tys_laiKNJ43G8Q&index=10

Tony MacAlpine Moon Babies
https://www.youtube.com/watch?v=AuvrZha-7XI

Greg Howe, Victor Wooten & Dennis Chambers - Extraction
https://www.youtube.com/watch?v=htYx0d5a7P4

Allan Holdsworth Hard Hat Area
https://www.youtube.com/watch?v=9dYAFX_KecE&list=OLAK5uy_nsy89_9h0ew6-HPCnVMYcByi1hD-

Brand X - Masques
https://www.youtube.com/watch?v=mlHtvbCTfmA&list=PLd9aXdcMUUwBiaXnTJai8OCNnlhKfLkdG

Bill Bruford One of a Kind
https://www.youtube.com/watch?v=BWZgi-ixOAo&t=52s
Instruments
I have always liked and used Ovation acoustic guitars. The Standard Balladeer is my Favorite. Also have several Ovation Celebritys. My first acoustic was an Applause. But I do have a few others I use. One is a Gretsch Historic series and a Washburn which I really like and use for most songs now. I also have just added an Alvarez Masterworks solid mahogany dreadnought MDA66CESHB. The best acoustic I've owned so far. Check out Alvarez acoustics before you buy a Martin or a Taylor. Top of the line acoustics for less than half the price.
The Alvarez has a beautiful complexity of overtones. The electric guitars I'm using now are the Peavey Predator Plus EXP Guitar which has a nice bluesy tone. A PRS SE Custom 24 Electric Guitar, A vintage Aria Pro II CS Cardinal Series. Which has a very nice tone that I like even more than the PRS. My main axe and my favorite is my Schecter Hellraiser Hybrid C1FRS Electric Guitar. In case your wondering why the name Acousticeg when I play a lot of electric guitar as well. The eg at the end stands for Electric guitar. I use large Rounded Triangle Raven guitar picks 1.26mm by Clayton, my favorite picks now are the Ernie Ball Prodigy 1.5mm picks. S7G FretWraps for tapping to mute the string noise.
recording devices
I'm using Reaper software and Audio Technical mics for recording. BEHRINGER U-PHORIA UMC204HD mixer and interface. I use my GT-10 and the GP-10. I also use a DigiTech DSP1101 Multi-Effects Preamp & Processor rack. A Line 6 Pod, DR-5 drum machine, Hall of Fame 2, DigiTech Trio Plus for practice and warm up, SY-1 Synthesizer, Hedra Meris, Earthquake Astral Destiny, Neunaber Audio Inspire Tri-Chorus Plus,Neunaber Immerse Reverberator Mk II...
User stats:
| | |
| --- | --- |
| public Uploads: | 330 |
| Fans: (received thumbs) | 6,323 |
| given thumbs: | 6,414 |
| written Comments: | 6,277 |
| Forum posts: | 42 |
| received Remixes: | 872 |
| total plays: | 669,513 |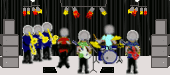 wikiloops online jamsessions are brought to you with friendly
support
by:
rtkradle
from United States
"Whatever Style of Music I feel like Playing with, it's all here for the jammin'. It's a great way to explore the world of music without having to get a band together with limited ability."