Photos
Tracks
November 11 2018

The Spell (Flamenco Funk)-GUITARS
Contact Information
Biography
I want to thank AlexNyman for sponsoring my membership, it is very touching sample of good will to me, and at this moment it is even more, given the tough humanitarian situation that overshadows my country. Thanks Alex, you encourages me to give my best in this incredible music community of WikiLoops.


Guitar and keyboard player. Composer arranger, producer, digital audio & MIDI developer, sound design. MUSIC LOVER!
My name in real world is Carlos Eduardo Arellano, my nick Jazzpick is part of a long history 18 years ago. I am in some point between 50 and 60 years old, just I don't care about since my soul and diverse body areas still like a kid yet
(hands and fingers! not be evil-minded! the rest is personal
)

REMARK: despite my nick, please don't think I'm a jazz freak, elite purist or something like that, no way! I am open in body and soul to my forever roots in rock, blues, pop and world trends, I can love a simple and lovely "C" chord over miriads of notes and ultra experimental clusters that say nothing.

My musical adventure began as a kid, although I received formal classical academic instruction, theory, classical guitar and piano basics, from an early age I got enticed to the vast universe of popular music, especially rock, blues and jazz, and also flamenco, Brazilian wave, bluegrass, gypsy jazz, and the folkloric native roots of my country music (Venezuela) and SouthAmerica roots, however I am grateful for those few but invaluable early 4/5 years of musical training received at the precise moment, when ears and mind are at their freshest and receptive. I still a to died fan of J.S. Bach and Bethoven, Vivaldi and Debusy, Chopin, Listz, and many others classic heroes. In the field of popular music I learn a lot from records transcriptions by hundreds! My posterior studies and learning came from many sources, traditional and contemporary, and my own experience accumulated on years.

My love for electric guitar start at my 13 y/o and came from the "hairs" of the rock movement at late 60's and 70's, Santana, Hendrix, Pink Floyd, Jeff Beck, Steve Wonder, Led Zeppelin, Wishbone Ash, Cream, Yes, Camel, Focus (Jan Akkerman), Ekseption , Jerry Garcia, Crosby Still Nash Young, Purple and Ritchie Blackmore, Allman Bros, Jack Pearson, AC / DC, ZZTOP and Gibbons and more. Then came an intense attraction to the blues (B.B.King, SRV, Buddy Guy, Robert Johnson, Albert Lee, Roy Buchanan) then symphonic rock, and later an infinite love towards jazz and everything that surrounded, world music, latin jazz, afro, new age jazz, brazilian wave, bossa, smooth, free, be bop and so (long reference list below)

About technology, I've always said hadn't it been by the multiple disciplines and areas that surround music in the contemporary history, I would not have been NEVER a musician, since I would be bored to death trying to be just only a virtuoso of the instrument. I kept myself in music as a career thanks to electronics, theater, cinema, TV, computers, the world of audio and recording, advertising, broadcasting, and lately (two decads) thanks to internet and global sharing trend. In those fields I'm still performing today, as a music producer, performer and recording enthusiastic, mentioning for example sound and patchs design for guitar and keyboard EFX (Overloud TH series) backing tracks demos (PG Music), beta analyzer software, and what you can do like many here in the age of versatility and multi task! of course, all this supporting my eternal love for guitar!

Platforms like WikiLoops are very few, I think it is unique, and it is an ideal place to share with many individuality despite their musical levels or skills but at the same time with honesty, feeling, respect and without mediocrity. We have to know our limits and not try to go further without we have trained enough to do it at least moderately well. I love learning from anyone, even if message can seem insignificant there is always something to learn!

Below a partial but significant list of influences on jazz, fusion and "trends around"

Charlie Parker, D. Gilliespie, Coltrane, Miles Davis, Joe Pass, George Benson, Pat Metheny, Wes Montgomery, Django Reinhardt, Ella Fitzgerald, Gino Vanelli, Mike Stern, Paco de Lucia, Al Dimeola, Jim Hall, Helio Delmiro, Steely dan, John McLaughlin, Astor Piazolla, Hermeto Pascual, Jaco Pastorius, Chick Corea, Herbie Hancock, Oscar Peterson, Cesar Camargo Mariano, Otmaro Ruiz, Egberto Gismonti, Ella Fitzgerald, A.C. Jobim, Michael and Randy Brecker, Lee Ritenour, Billy Cobham. Larry Carlton, Steve Vai, Joe Satrianni, Spyro Gira, Hans Zimmer, James Newton Howard, Bill Evans, Toot Thielemans, Fiedrich Gulda, Eugen Cicero, Allan Holdsworth, Ron Carter, Weather Report, Wayne Shorter, UZEB, Jeff Lorber, Richard Bona, Pat Martino, Robben Ford, Scott Lerner (NJ), John Scofield, Jean Marie Ecay, Scott Henderson, Duke Ellington, Paquito D'Rivera, Michael Jackson, Steve Gadd, Bela Fleck and the Flecktones, Manhattan Transfer, Yellow Jackets, Andy McKey, GRP Records, Arturo Sandoval, Irakere, Gonzalo Rubalcaba, Ivan Lins, Joao Bosco, Dave Weckl, Pedro Aznar, Joan Manuel Serrat, Carles Benavent, Stanley Clark, J. Patitucci, Victor Wooten, Alex Acuña, Trilok Gurtu, Tito Puente, Jan Hammer, Rolf and Joachim Kuhn, Clark Terry, Lester Young, Coleman Hawkins, The Crussaders,Lennie Nihaus, Joe Lovano, Cannonball bros, Sonny Rollins, Tom Scott, Roy Hargrove, Johnny Griffin (sorry by memory missed one, specially who are in heaven now).
Instruments
Guitar (electric and classic nylon) Bass, Keys, percussion, cuatro venezolano.
recording devices
Cubase, Reaper, Band in a Box. real guitar amps as well as modeler technology: Boss GP-10, Roland GR-55, Overloud TH3, Fractal FX. Normal home studio assortment of mics, mixer, amps, efx and processors. Guitars: Gibson Les Paul x2, Godin xtSA, PRS BM Custom mkII, Epiphone DOT, Joe Pass Emperor II, Telecaster, Dean 6 strings banjo, Giannini classical HandMade Flat series nylon (Brazil) Cuatro Venezolano (Caroreño).
User stats:
public Uploads:
Fans: (received thumbs)
given thumbs:
written Comments:
Forum posts:
received Remixes:
total plays: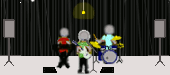 Jazzpick is following:
Jazzpick is being followed by:
wikiloops online jamsessions are brought to you with friendly
support
by:
Sandy
from New York
"Thanks for this great site! Love finding awesome drum & percussion tracks here for my projects."