Thanksgiving time on wikiloops
Dear friends of wikiloops.com,
as folks in the United States are celebrating Thanksgiving day this weekend,
I do feel this is a good occasion to express wikiloops gratitude towards those who have been contributing to this community in 2018 and the previous years.
I do understand the spirit of Thanksgiving as an invitation to re-think ones gratitude for the good things in life. So, why would that be a good idea?
I guess it is part of human nature to take things for granted once they are available for some time,
and I guess most will have experienced the feeling of "oh, darn, I took that for granted, and now it's not happening any longer" that may be the result.
Maybe Thanksgiving is about re-categorizing things from "that's for granted" to "that really is something rather miraculous one should be thankful for".
The older I get, the more I realize that almost nothing is for granted,
neither health nor wealth, nor having a bunch of musical friends online who care to listen to my music.
I just recently stumbled across a track on wikiloops where some folks had a go on some drum track I had shared a while ago.
Well, I do hope many of you share the following experience, but that track had me sitting there feeling totally blissed about what my humble contribution had been turned into by those remixers.
Can you relate to that? I think you probably can!
Now, let me try to shift perspective beyond that single blissed experience:
Instead of talking about why that particular remix felt so right to me,
let's look at something else that dawned on me while listening:
That remix could only happen because there is that seemingly "for granted" infrastructure called wikiloops.com, and that evening I felt very, very thankful for that, despite the fact that I'm probably most aware of the workload of maintaining that infrastructure.
That is why I feel it is very much due to once more give thanks to those who are silently contributing to the thing called wikiloops.
With a big bow of appreciation, I'd like to start by thanking
TeeGee
,
OliVBee
,
Shi
,
jmrukkers
and "the wise"
stemarqui
, who are taking care of the wikiloops community on almost every day of the year.
It is a miracle, thank you for your continued dedication towards wikiloops, and for standing strong when things get windy.
Next, let's give thanks to those who have helped fuel the wikiloops engine with the needed financial support to host & stream 120,000 backing tracks on 365 days per year from our global server network.
Only around 15% of the needed budget is raised by advertisement and corporate sponsoring, so below folks are helping to cover the rest to make ends meet for wikiloops.
The more wikiloops can rely on its users support, the more independent it is, and the less likely to need to exploit itself for anything non-fun (like, for example, advertising).
Here is to the folks who made the miracle happen in 2018 so far: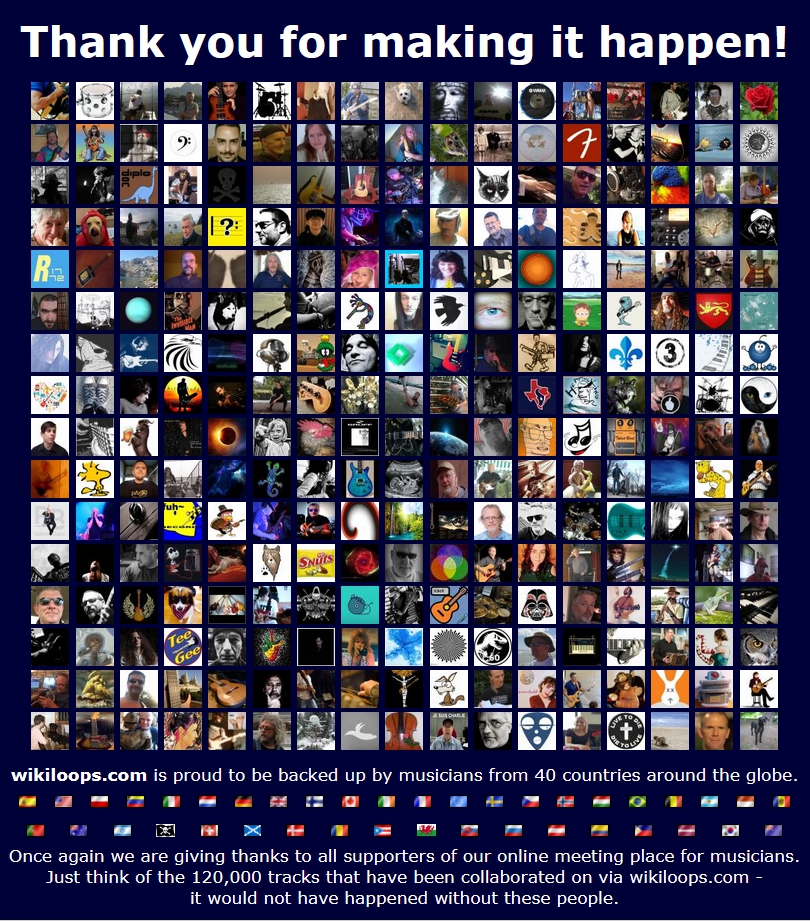 Well, and last:
Thank you for reading these words, and for stopping by on wikiloops.com!
If you feel like joining the wikiloops supporters, or like showing some appreciation for a fellow wikiloops member by granting him or her a membership upgrade, please visit the wikiloops
donations page
.
Happy jamming on wikiloops.com
yours
Richard
wikiloops online jamsessions are brought to you with friendly
support
by:
jstef
from Italy
"They are BANNING music out there. We can spread it! "