wikiloops news march 2019
Dear friends of wikiloops,
Today I'd like to give the community a little update on what has been cooking around wikiloops central in early 2019:
Let's start by mentioning the release of the traditional annual "
wikiloops transparency report
" in early january.
Those of you who care to get to check out what makes the 'loops go round can get an insight into how we made it thru 2018 there.
As always, I would like to thank those of you who keep following up how the project is doing,
and those who support our efforts to keep wikiloops around.
21 days down the road and wikiloops will be online for eight years running.
Let that sink in a moment:
What have you been up to in the past eight years?
Doesn't 2011 seem quite far away by now?
You are probably not driving the same car as in 2011, not wearing the same clothes, hopefully not playing the same guitar strings (now, wait...) and could probably name more things that have changed since then,
then things that remained the same, right?
There have been (and will be) many many changes to the wikiloops project, but thanks to those who supported, a few things could be saved over time:
wikiloops is still independent: the project doesn't belong to any huge stockmarket-listed network - we've been family + member-funded all the way.
all relevant details about the project are offered in our public transparency reports.
wikiloops music streams are still freely accessible & not interrupted by any advertisements and
wikiloops still serves as an open minded meeting place for musicians from all around the globe.
Thanks to all the known and not so well-known patrons of this musical community -
and now let's move on into looking to what is coming up in 2019:
To make sure wikiloops doesn't get outdated like the smartphone (or pretty much any other technical device) you bought 8 years ago, we will once more be rolling out a new version of wikiloops some time this spring.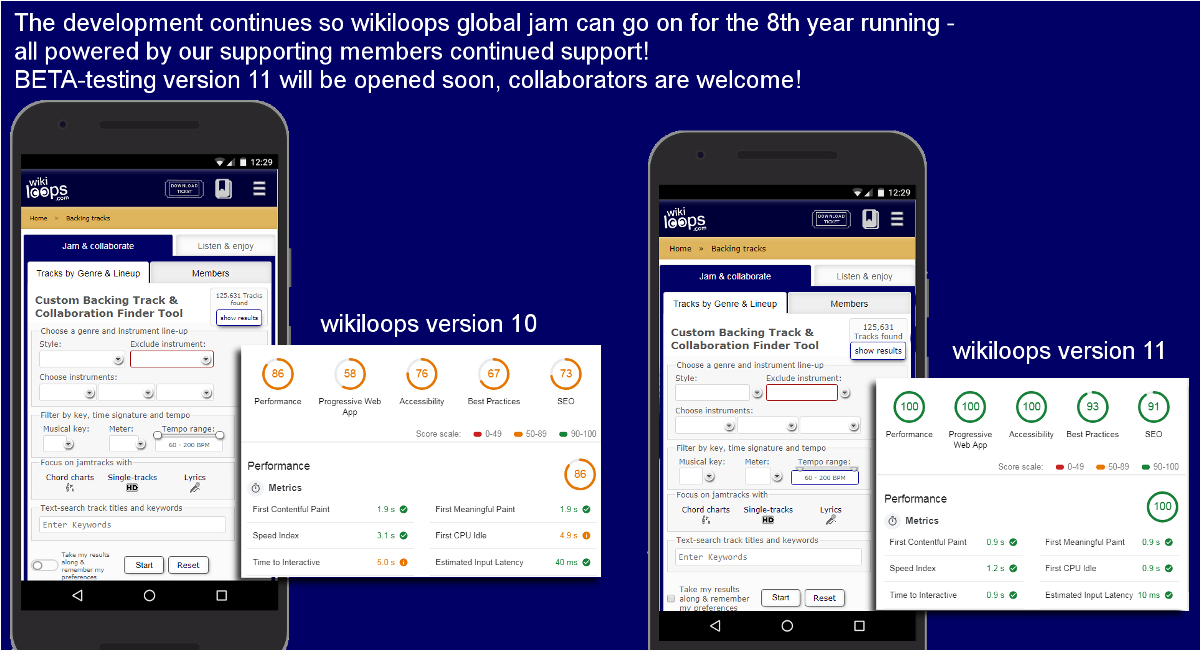 The main concern of that update will be purely technical, adopting wikiloops code to the latest browsers capabilities, so don't expect any unforeseen new functionalities.
At best, the new version will work smoother on your mobile device then the current, and you may find some buggy things have been fixed in the process of re-coding the whole javascript engine of wikiloops.
For the few code nerds among our readers:
We are letting go of jQuery in this update and have replaced any previously dependent code, most prominently the wikiloops audio players backbone in this version.
If you would like to be among the first people to check out wikiloops version 11, you may dare to take a look at the
wikiloops 11 BETA testground
:)
I'd appreciate your feedback via the Feedback&Suggestions-Forum, it takes a swarm of testers with different devices & locations to make sure everything works as smooth as we like our wikiloops to be, so feel free to collaborate on that with me. (that somehow rhymes... probably a good sign!)
So, while I've been knee-deep in rather technical stuff lately, some wikiloops folks have carried on
creating a video collaboration in the spirit of our 2018 video collaboration series, which I feel like sharing with you:
[youtube]cc6zCbJ8IBo[/youtube]
https://youtu.be/cc6zCbJ8IBo
Many thanks to Kimbo for passing me the link & including a little wikiloops promotion, too.
Now, to wrap up todays post, let's put the stated news together:
As explained in more detail in the transparency report, there have been some major changes to wikiloops operations, leading to a drastically changed time window on my personal end.
You can tell by looking at the wikiloops 11 update that the technical maintenance of wikiloops goes on, as "keep the servers & browsers running" has to be dealt with as my top priority.
Some may have guessed it, looking at the "new years"-blog post sitting there for two months, and observing that the "usual" invitation to another wikiloops meeting has so-far not been issued for 2019, and it's true: I have (with a tear in the eye) had to cut down such "for the fun of it"-activities.
Now, look at Kimbo and the collaborators, notice the open invitation to collaborate as a BETA-Tester and please reach the right conclusion:
wikiloops simply depends on people who like the project and step foreward with some kind of initiative. If we want to see this project celebrate its tenth birthday come april 1st 2021,
then let's keep in mind: We all have the chance to make it happen together.
That could be as easy as becoming a supporting member, being a beta tester, funding a part of the server budget, recommending wikiloops around, creating fun things that hint at wikiloops like above collab-video, or offering to take on some task that suits your individual super-powers. Dare to get involved, wikiloops is a collaborative project :)
p.s. news-of-the-minute:
Happy to report the backup of wikiloops several terrabyte of music & databases has once more been double-copied for added server failure safety. As you can tell looking at below image, the stack of drives behind my laptop keeps growing steadily...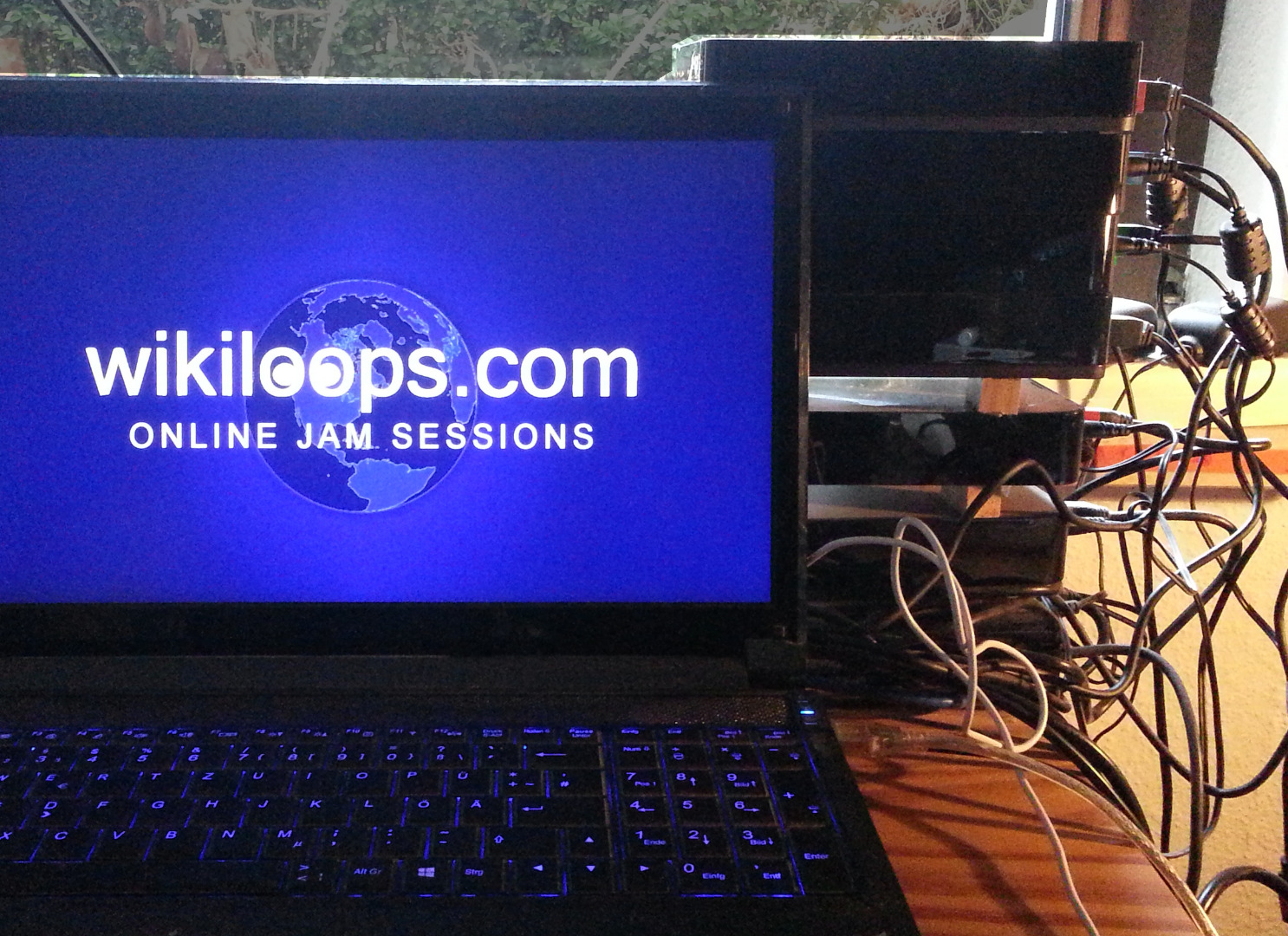 Stats of today:
125,716 Tracks online
53,406 Members registerred
2902 days online
242 Supporting members
wikiloops online jamsessions are brought to you with friendly
support
by:
Psycho
from United States
"My guitar sat in a corner. Then I discovered wikiloops and now, not one day has gone by that I haven't played it."