Jam & collaborate
Custom Backing Track & Collaboration Finder Tool
No track is matching all of your criteria, but we can offer you:
Err... you are in conflict... sorry, but it is not possible to look for tracks which include Harp but may not include Harp - please remove one choice :)

Listen & enjoy
Discover wikiloops original music on our genuine one-world radio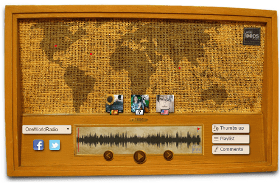 Albums featuring wikiloops music collaborations
wikiloops online jamsessions are brought to you with friendly
support
by:
anonymous
"wikiloops has helped so much in my quest to learn. such a great site. and thanks to all the musicians out there that have uploaded some awesome music."