Support the wikiloops project &
sponsor a membership upgrade for your favourite musician
Operating an open accessible website and hosting close to 120.000 audio tracks on streaming servers does go along with a lot of cost,
and wikiloops in today's appearance would not exists if it was not for individuals who support the project with donations.
Loading...
To send support by european bank transaction,
see our bank account details:
EU bank account info
Friends share everything - including the costs
Right now, the funding of wikiloops is carried by roundabout 250 "supporting members" -
no banks or non-musical investors involved, ever, giving us the freedom to provide the wikiloops we like.
Despite all the voluntary help, one hour of operating wikiloops costs about six dollars,
quite little if you realize how many people are having fun on wikiloops in every minute,
but which also adds up to quite a heavy budget when doing the math (40k US-dollars for 2019)
for a project that was initially started as a part time hobby.
You get the picture: wikiloops can do with your support.

We will double the happy if you like
When sending a donation, you may let your favourite wikiloops musician benefit from it.
If you choose someone, we will turn your donation
into upgraded membership credit for the wikiloops user you choose -
giving that musician some cool extra features
and some motivation to keep posting the tracks you enjoy.
To make use of this option, select "dedicate your donation" in the payments widget
and choose the user you would like to sponsor.

Visit the wikiloops fanshop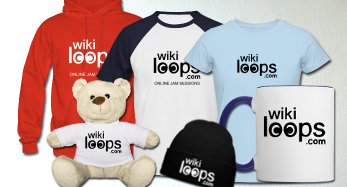 wiki-shirt-shop north america